An Unforgettable Elaphite Islands Boat Tour
Experience these sea jewels via your own private speed boat
Choose a private Elaphiti Islands half day tour or a full day to soak in even more sun, sea, and adventure. Your trip begins with a pick up at your preferred location. Enjoy speeding along the coastline or choose a more relaxed pace as you head toward your island destination.
Your friendly skipper will adjust the cruising speed of your Elaphite Islands boat tour according to your preferences and adjust your itinerary however you'd like.
Half-day tour from € 349 / HRK 2600
Full day tour from € 499 / HRK 3700
100% private & customisable
Visit the Blue and Green Cave
Enjoy snorkelling in a Mediterranean paradise
Get a tan & laze on the sandy beach
Guests are provided with hand sanitizer on all tours and our boats are frequently cleaned and disinfected. 
Pickup at your accommodation
Skipper
Fuel
Water, wine & fruits
Wi-Fi, towels, masks & snorkels

Go-Pro camera 
Floaties for children
Price per group up to 7 pax
Credit Card
Cancel 24 hours in advance for a full refund
Covid Policy
Rewind Dubrovnik is committed to the health and safety of all our guests and partners. We disinfect all our gear before and after every tour. All guests are provided with hand sanitizer to use as needed during island stops, lunch, etc. Should you need to cancel your tour for any reason, you can receive a full refund up to 24 hours before departure.
See full terms & conditions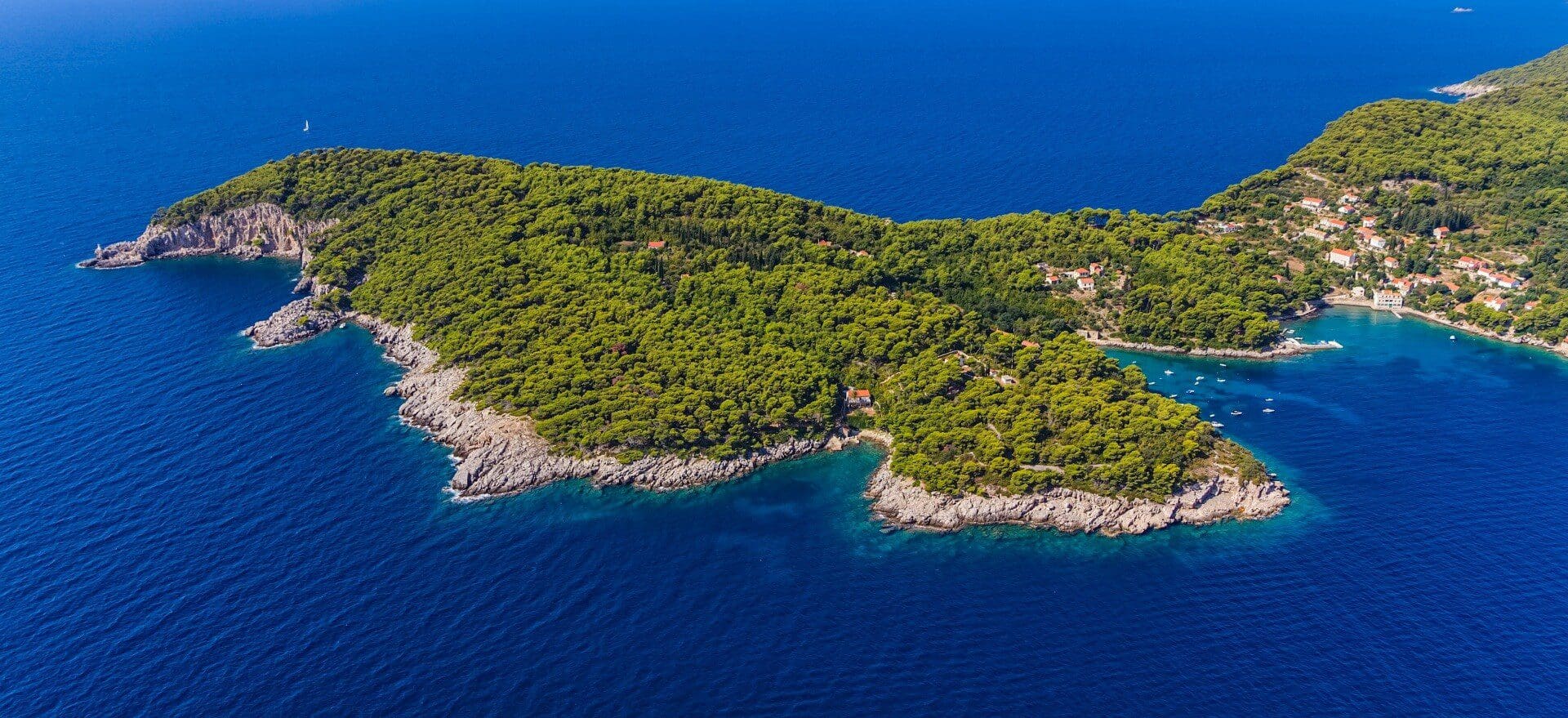 A Private Elaphiti Islands Tour by Speed Boat
Create Memories You'll Always Want To Rewind And Replay
Let's explore this stunning archipelago just off the coast of Dubrovnik — a favourite getaway for locals! With pristine waters perfect for snorkelling and centuries of history worth exploring, the Elaphiti Islands are an idyllic day trip on a Dubrovnik holiday. We will visit three of these islands during your tour, with more time to explore and relax during a full-day tour.
You might also love our Dubrovnik sunset boat tour! Spend the waning hours of the day on your own private boat, cruising along the Adriatic sipping local wine and basking in the beautiful sunset. Of course, all of our tours are private and fully customisable, so feel free to contact us with any special requests you might have!
First Stop on This Elaphite Islands Boat Tour: Koločep
The Evergreen Island of Pine Trees
The first stop on our Elaphite Islands private tour is the southernmost inhabited island in Croatia: Koločep, locally known as Kalamota. It is the first of three large Elaphiti Islands and the closest to Dubrovnik (0.6 miles away). Alluring pristine blue waters surround this small and tame island. "No cars and no rush" is the life motto of the local residents, as you will notice from the minute we arrive.
We will visit one of the Koločep's landmarks, the Blue Cave, which can only be accessed by swimming. Enjoy complimentary use of our GoPro camera to capture incredible memories from your adventure! We are also happy to offer complimentary snorkelling equipment, which is disinfected before and after every tour.
The Island of Authentic Summer Feel
Our next destination is Lopud, an island that is famous for having one of the best sandy beaches in the Dubrovnik area, called Šunj. Here, you'll have the opportunity to fully experience a luxuriously hot, idle summer day on the Adriatic Sea. You could choose to stay on the speed boat and get a tan, enjoying complimentary drinks and fruits, or go ashore and explore the island at your leisure.
During our Elaphiti Islands tour, you can freely explore the island at your leisure. We can also enjoy a quick, fun tour of the village to see even more! You can visit the Dominican and Franciscan monastery, Đorđić-Mayneri Park, remarkable small churches, and much more.
If you wish, we can also make arrangements for a light lunch at one of the best restaurants on the island. The island's "No cars and no rush" motto applies here, too!
Final Stop for our Elaphiti Islands Boat Trip: Šipan
The Island of Fertile Fields
The last island we'll visit on our private Elaphite Islands tour is Šipan, the largest and most densely populated among the Elafiti islands. With its untouched nature, turquoise blue sea, green olive and pine trees, birds chirping…it is truly a place of serenity. In a small seaside location called Suđurađ, there are two renaissance palaces owned by the famous ship-owning Skočibuha family. Locals are dedicated to the production of home-made and home-grown goods, including wine, olive oil, marmalade, fruits, vegetables, and more. If you wish, we can organize wine and olive oil tasting. On our way back, we will make a short stop to have a swim and snorkel around the pebble beaches of the small islet, called Sikirica. By the end of our day together, we hope you'll make countless beautiful memories and have plenty of stories to take home with you! We want you to rewind and replay these moments for years to come…always fondly remembering your experience with us in Dubrovnik.
We're very proud of our 190+ Excellent and 5-Star reviews!
Panorama Cruise Dubrovnik
Visit Mljet National Park