It's Finally Time for a Summer Escape!
Discover the speed & comfort of our boat
It's been a long, weird, difficult year for so many of us. But finally…finally!…it looks like there's a light at the end of the tunnel.
We can start planning ahead for lighthearted adventures and summertime fun. We can start looking forward to new experiences and exploring new places. And finally, we can get together with our favourite people for lots of laughs!
If you've been cooped up at home and dreaming of an escape, we know just the place.
Come visit Dubrovnik and explore a fortified city that's as famous for its medieval past as it is for being King's Landing in Game of Thrones. Journey to the beautiful Mediterranean to bask in sunshine and a delightful sea breeze as you let loose and finally get to enjoy the freedom of travelling again!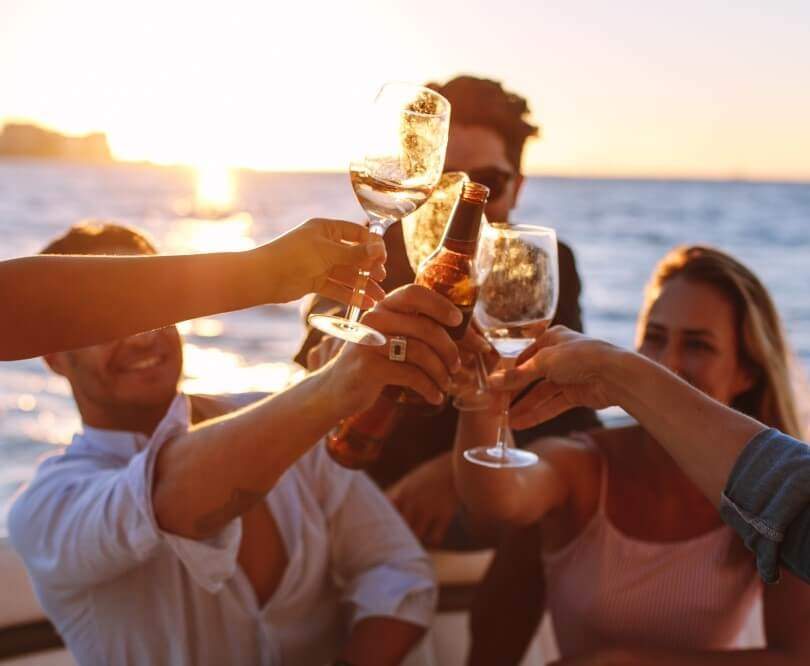 At Rewind Dubrovnik, we're so lucky to be able to call this beautiful, historic, sunny spot on the sea our home. And there's nothing we love more than to share this beauty with new friends from around the world. 
Join us for a tour on your own private speed boat with a friendly, local, English-speaking guide at the helm. Treat yourself to the escape you deserve! 
Take a look at our private Dubrovnik sunset cruise and imagine yourself enjoying the most idyllic end to your day. We can't wait to help you make memories you'll treasure forever, always wanting to rewind and replay these magical moments.
Make Memories With Your Favourite People
Whether you've been separated for the past year or you're just bored of the same four walls…it's finally time to go somewhere new and experience something different. Grab your crew and make those beautiful memories together that we've all been missing. Those moments where your cheeks hurt from smiling too hard and your belly aches from laughing too long. Those are the moments you'll remember forever!
Enjoy Your Freedom to Explore
Leap into the sea with childlike glee…this summer will be one to remember! Leave all those familiar paths we've been walking just to get out of the house and take a real escape from it all. The Mediterranean is the place to be this summer. Let loose, enjoy this newfound freedom, and let's all finally feel like the world is getting back to normal.
Bask in Breathtaking Natural Beauty
Whether you're seeing these views for the very first time or you see them every single day, the islands near Dubrovnik are jaw-dropping in their beauty. Peacocks roam Lokrum Island while Mljet Island looks entirely untouched and raw in its lush beauty. Approaching these gems by boat is a moment we always treasure, no matter how many times we've done it. Especially if you've been stuck in a city lately, getting out onto the sea and feeling fresh air as you explore these islands will finally feel like true freedom!
 Plan Ahead with Confidence
We know it's been a weird year filled with uncertainty. Our super flexible cancellation policy allows you to cancel and receive a full refund up to 24 hours before your booking. That's always been our policy and we're not changing it at all.
On top of that, all of our tours are private so you know you're just with your own group and nobody else. Well, except for your professional skipper, of course! We follow all health and safety protocols and recommendations, ensuring we disinfect all gear and maintain the highest cleanliness standards for our boat.
We want you to feel confident and comfortable booking with Rewind Dubrovnik. We've all had enough of the uncertainty this year. Let's finally start looking forward to better days with confidence and joy!
If you're finally ready to book your escape this summer, get in touch and let's plan your dreamy day out on your own private speed boat. It's an iconic way to enjoy the life of luxury on the Med – and you deserve it after this long year. We can't wait to welcome you to Dubrovnik…finally!
Sign up to our email series to learn more about Dubrovnik, and how we can make your perfect Croatia boat adventure a reality.