Mljet's Pristine Natural beauty
Island Mljet is probably most famous for its natural heritage. The biodiversity of its flora and fauna, ecosystems, and geological formations are why the northwest part of the island (area of 3000 ha) was proclaimed a national park in 1960 (making it the oldest national park on the Adriatic).
A clear and clean sea, rich underwater life, and a gentle sandy shoreline surrounded by dense Mediterranean vegetation make Mljet one of the most desirable green oases on the Adriatic – an ideal destination to recharge your spiritual batteries.
Our love for this paradisal island inspired us to craft our popular Mljet Boat Tour from Dubrovnik.
The most prominent part of the national park is the two saltwater lakes – Veliko and Malo Jezero (Large Lake and Small Lake). The two lakes are connected via a narrow water channel; a second narrow passage connects both to the sea.
The tiny St. Mary Island, with its 12th-century Benedictine monastery, is settled right in the middle of the Large Lake. This immensely well-preserved medieval site will captivate those with a passion for history.
The famous Odysseus Cave, located on the southern coast of the island of Mljet, is one of its natural wonders. This natural phenomenon can be entered by sea, swimming, or by a smaller boat. If you want to explore it, booking a boat tour of the island would be a good idea.
With Rewind Dubrovnik, you can explore the island via our dedicated Mljet Boat Tour, or by arranging a private tour experience with our Custom Speed Boat Tours from Dubrovnik option.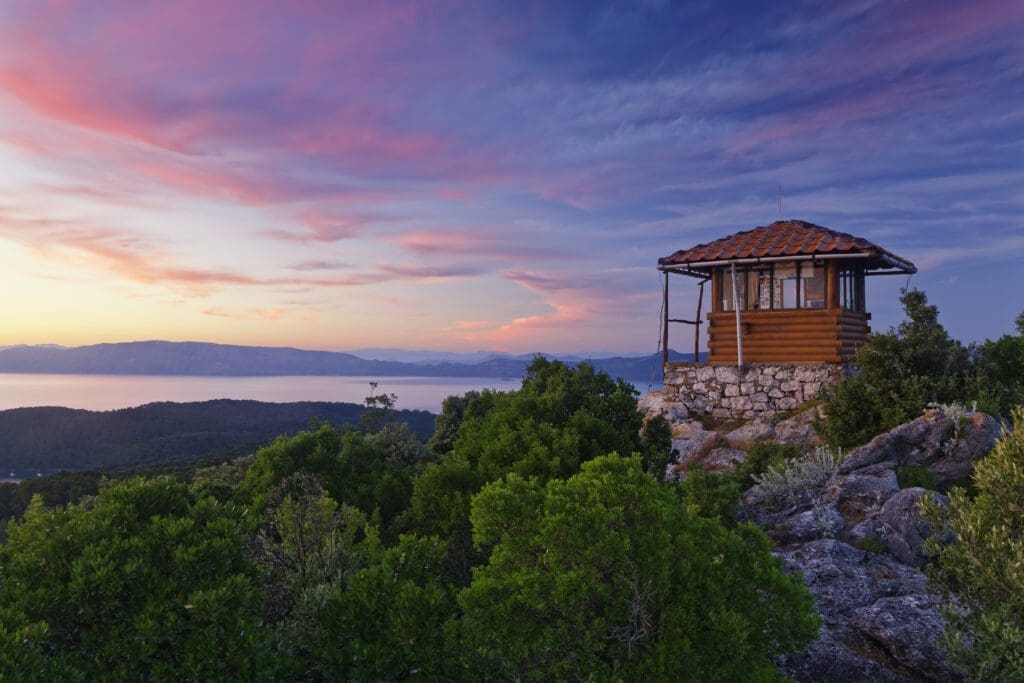 Beaches in Mljet
Saplunara, a sandy beach surrounded by pine trees, is settled south of the island. The name Saplunara comes from the Latin word sabalum, which means sand.
Due to the unique conditions at Saplunara, the beach and surrounding area are home to plant species that grow nowhere else in Croatia. Swimming at such a beautiful beach is luxurious without large tourist crowds!
Beach Blaca (also called Limuni), located near Saplunara in a sheltered bay, is secluded and ideal for enjoying privacy and solitude. This smaller sandy beach has no shops or amenities nearby, but the calm, quietness of the place is something special.
Families with children will love the pebble beach in the tiny, deep bay Sutmiholjska – this picture-perfect destination is one you'll want to capture for your Instagram feed.
Cultural Sites on Mljet
But island Mljet is certainly not only about nature. There are numerous cultural monuments, some of them even from Illyrian times.
The village of Polače boasts palaces from antiquity and an old Christian basilica. Medieval chapels are dispersed over the entire island.
Locals keep centuries-old traditions alive by wearing lively and bright costumes and dancing folk dances while performing music on special occasions.
Once you have visited island Mljet, explored its untouched nature, bathed in its magical sea, and felt its enchanting atmosphere, there is no doubt you will want to come back over and over again.
If you have any questions about our tours or services, please contact us. And if you're looking for more things to do in and around Dubrovnik, browse our entire range of Dubrovnik tours and private Dubrovnik boat tours.