Dubrovnik is a place for lifelong memories, for giving your friend the beautiful hen weekend you all deserve. Step out of daily life into a fantasy adventure, in a region that truly offers something for everyone.
Here at ReWind Dubrovnik, we want our guests to experience a Dubrovnik hen weekend that exceeds everyone's expectations, and our first priority is taking all the stress out of the hands of the wonderful organisers.
We can help you carefully curate your activities and ensure travel arrangements are seamless, so do get in touch with us to chat through your ideal hen weekend. In the meantime, we have put together our top list of tried-and-tested hen party ideas so you can get a sense of what our amazing region has to offer.
1) Take a boat tour around the Elaphiti islands
The Elaphiti Islands are easily accessible by boat from Dubrovnik. Magical island experiences include snorkelling the Kolocep Blue Cave and surrounding reefs, relaxing on white-sand beaches, and spotting dolphins, sea turtles and starfish in our crystal-clear waters.
At ReWind Dubrovnik we offer both half and full day Elaphiti tours, which can be curated to your own interests. Example activities include cliff jumping at Fisherman's Cave and snorkelling inside the Blue Cave — named for its incredible iridescent light that reflects off the walls and water.
You might want to try our super fun underwater scooters, so you can whoosh through the water like a dolphin. We can always build in options for those who prefer just to relax on the beach or take a walk through the botanic gardens and forests of the islands.
2) Treat yourselves to a Dubrovnik wine tasting
The region around Dubrovnik is famous for its wine, winning several international awards. There's no better place for a wine tasting than one of our local vineyards. There are vineyards across the Elaphiti Islands, and also in the region of Konavle, southeast of Dubrovnik.
One option for vineyard hopping is by bike, or e-bike. We run an e-bike tour through the Konavle region, and all of our guides are experts in pointing you to the best tasting spots in the area. One of our staff members, Dom, is even writing his PhD on the area's unique wine varieties!
If you're short on time, you can also book a wine tasting in one of Dubrovnik's bars, and we are happy to recommend one that fits in with your itinerary. Don't leave Dubrovnik without sampling the local champagne, which is complimentary in several of our tours, including our beautiful Dubrovnik sunset cruise.
3) Challenge your group to a Dubrovnik zip-wire adventure
For those who love the rush of adrenaline (and those whose friends can convince them into it), "The Wire" is Dubrovnik's 900 metre zip-wire, and a firm favourite among our guests.
Starting at the top of a lovely oak hill, you will soar above the Adriatic Sea with speeds of up to 100 km/h. You will land in a quiet forest, with time to unwind with friends next to the sea.
The zipwire has a weight requirement of 50-110 kg, and is only for those over 12, but if there are members of your group unable or not so keen for the Wire, we can help you organise a parallel activity so noone misses out on the fun.
4) Take a Game of Thrones Dubrovnik tour
If your hen is a fan of the series, we have a real treat in store for her. Our Game of Thrones Dubrovnik tour takes you to the Lovrijenac Fortress and Fortified Walls, to the site of King Joffrey's riot scene at Pile Gate, and retraces the steps of Cersei Lannister during her walk of atonement.
Your expert guides will not only be able to identify key moments from the series, but also teach you about the real-life events that inspired some of its writings, and identify parallels with local history. The tour includes a great group photo opportunity on the iron throne.
Lokrum Island also features in the series as the city of Qarth, and the island's monastery includes an exhibition dedicated to the series. If you have a group with mixed opinions about the series, why not simply plan a trip to Lokrum Island and combine the exhibition with floating on a salt lake or walking through the botanical gardens.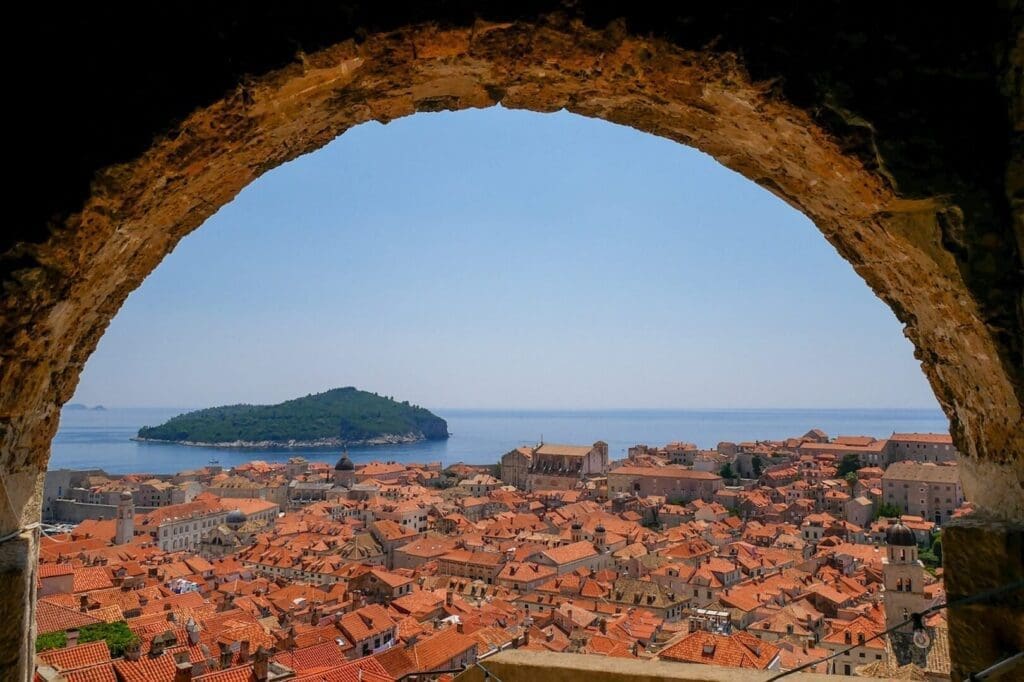 5) Throw a beach party on Sulic Beach
Sulic is a really popular hen weekend destination. Complete with bright blue sands and beautiful cliff surroundings, the beach also has a bar with its own swings, perfect for a cocktail to start the night off.
Before you get too tired of us mentioning Game of Thrones, it's worth noting that overlooking Sulic Beach is King's Landing. Sulic Beach has pebble-sand shores; there are plenty of sandy beaches around the area too if that is your priority. Check out our Dubrovnik beach guide to choose the perfect beach for your group.
6) Have the best Dubrovnik night out
Dubrovnik really comes to life in the evening. The main city street of Stradun is lined with lively bars, clubs and restaurants and is your first port of call for an evening of dancing.
For dancing beside the sea, head to Coral Beach Club on the Lapad Peninsula; an open-air restaurant with resident DJs (check in advance for the schedule). Or for an island clubbing experience, head to the party island of Hvar, which offers a range of evening hen activities including private pub crawls, buff butlers, and cocktail making.
7) Plan a Croatian Spa day
Hvar is also a great location for spas; a place to unwind and relax after an evening of partying or zipwiring! Dubrovnik itself has a range of lovely spas on offer, many of which offer thalassotherapy; which literally means therapy from the sea.
In practice, this entails the use of warm seawater, seasalt or sea products such as marine mud. Other locally-inspired beauty treatments include the widespread use of olive oil, as the region's olive trees produce some of the most delicious and high-quality oil in the world.
Croatians have used olive oil on their skin for centuries, often in combination with locally produced essential oils from the wild-growing lavender, immortelle, and even oregano.
If you are feeling imaginative, the region has all the ingredients for a bespoke natural beauty day involving dips in the highly salted Adriatic Sea, calming snorkelling around the caves, and picking up a selection of locally made beauty products from an island market. 
Whether you want to let your imagination go wild by creating something entirely unique for your hen, or whether you prefer a more classic experience, do get in touch with us; we'd love to help you create your perfect hen weekend. Our local knowledge and love of our area are truly second to none.