Croatia is world famous for its stunning coastline, crystal-clear waters, and archipelago of over a thousand islands. The country offers all the luxury and beauty one could look for in a summer vacation.
Join Rewind Dubrovnik as we discuss which islands we love visiting most during summer, from the glorious Elaphiti Islands to the peaceful, green beauty of Mljet.

And while you are with us, please be sure to check out our selection of Private Boat Tours from Dubrovnik and our Dubrovnik land tours.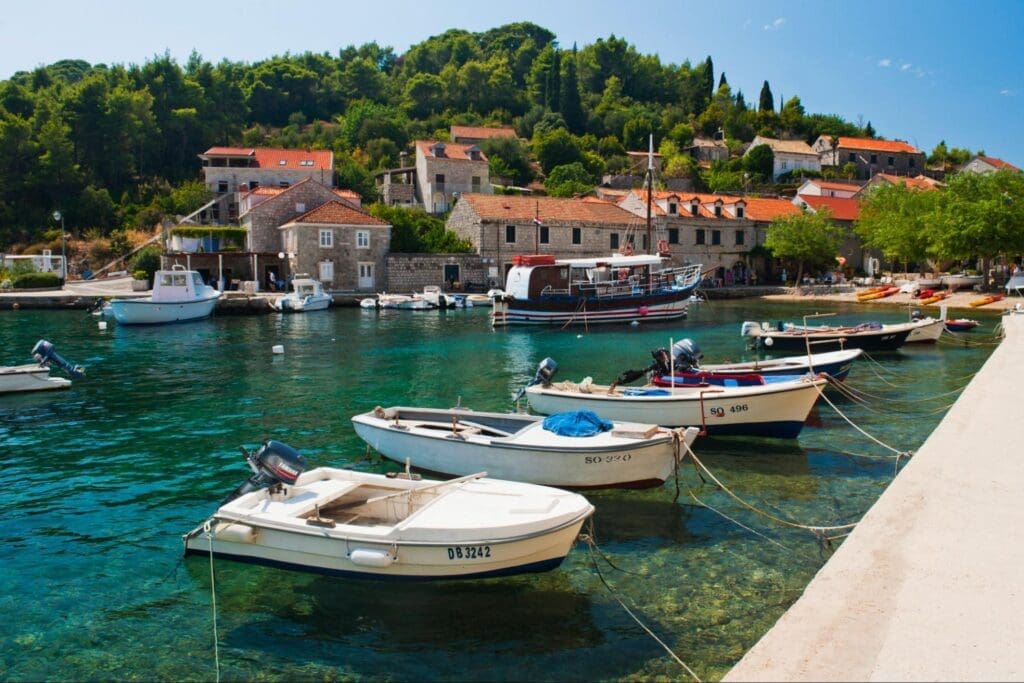 Importance of Choosing the Right Island for a Summer Getaway
When planning the perfect summer vacation, choosing the right island to visit is crucial. Each Croatian island offers a unique blend of natural beauty, historical significance, and recreational activities, but you want to make the choice that's just right for you.
With July being the peak of summer, it is an ideal time to explore these islands, as the weather is warm and the Adriatic Sea is at its most inviting.
Rewind Dubrovnik offers Luxury Boat Tours that provide an exclusive and intimate way to explore the Croatian islands. Our tours ensure a personalized experience with a blend of relaxation, adventure, and cultural exploration.
The Magic of Šipan Island
Šipan, the largest of the Elaphiti Islands, is a paradise waiting to be discovered. Only 17 kilometers from Dubrovnik, this picturesque island has olive groves, vineyards, and citrus orchards. With a rich history that includes tales of pirates and patricians, Šipan offers a blend of natural beauty and cultural heritage.
How to Reach Šipan from Dubrovnik
Šipan is easily accessible from Dubrovnik. Regular ferries and boats connect the two, but for an unparalleled experience, Rewind Dubrovnik's Full-Day Tour of the Elaphiti Islands offers a hassle-free and elegant journey across the Adriatic to the island.
Unique Attractions of Šipan
Historic Villages: Suđurađ and Šipanska Luka
Šipan boasts two main villages, Suđurađ and Šipanska Luka, each with its charm. Suđurađ is adorned with stone houses and a historic port, while Šipanska Luka is known for its vibrant seafront and fishing culture. Both villages are rich in history and offer a glimpse into traditional Dalmatian life.
Olive Groves and Vineyards:
Šipan is renowned for its olive oil and wines. The island's fertile soil has been cultivated for centuries, and visiting the olive groves and vineyards is like stepping back in time.
Activities to Engage in July on Šipan
Swimming: The warm July weather makes Šipan's clear waters irresistible. Take a dip in the sea, or simply lounge on the beach with waves gently crashing nearby.
Olive Oil Tasting: Don't miss the opportunity to taste some of the island's finest olive oils. Many local producers offer tastings and tours of their olive groves.
Recommended Luxury Boat Tour Experience to Šipan by Rewind Dubrovnik:
Rewind Dubrovnik offers an exquisite tour to Šipan as part of our Full-Day Tour of the Elaphiti Islands. Sail in a luxury boat while enjoying the beauty of the Adriatic, then explore Šipan's historic villages, swim in crystal-clear waters, and savor locally produced olive oil and wines.
We can even arrange an olive oil tasting experience for you; just select the experience as an add-on during the booking process.
The Tranquil Beauty of Lopud Island
Lopud Island, a part of the Elaphiti archipelago, is often described as a sanctuary for those seeking peace and natural beauty. With its car-free policy, lush green landscapes, and pristine beaches, Lopud is a haven for travelers who want to escape the hustle and bustle of daily life.
How to Reach Lopud from Dubrovnik
Reaching Lopud from Dubrovnik is convenient with regular ferry services. However, for a more unique experience, you can opt for Rewind Dubrovnik's Half-Day Boat Tour of the Elaphiti Islands, which features time spent on Lopud's beautiful Šunj beach.
Noteworthy Attractions on Lopud
Sunj Beach: This pristine beach is the crowning glory of Lopud. With its fine sand and shallow waters, it's a perfect spot for both families and couples. The beach is surrounded by verdant hills, creating a serene setting for relaxation.
Lopud Monastery: Lopud Monastery is a beautiful 15th-century Franciscan monastery. The peaceful ambiance, combined with stunning views of the sea, makes this spot a must-visit for anyone seeking spiritual serenity or a taste of history.
Activities to Engage in July
Sunbathing: July is the perfect month for sunbathing on Lopud's beaches. The sunny weather and the gentle sea breeze create an idyllic atmosphere.
Walking Tours: Explore Lopud's natural beauty and historical sites on foot. The island's trails will take you through lush gardens, past historical buildings, and offer breathtaking views of the Adriatic Sea.

Koločep – The Island of Serene Coves
Koločep, or Kalamota as locals lovingly call it, is the southernmost inhabited Croatian island. It's known for its lush Mediterranean vegetation, a jagged coastline dotted with hidden coves, and an overwhelming sense of tranquility.
How to Reach Koločep from Dubrovnik
Koločep is easily accessible from Dubrovnik but we highly recommend our Underwater Scooter Safari: Private Elaphiti Island Boat Tour, which includes a trip to The Three Green Caves of Koločep.
Notable Attractions on Koločep
Blue Cave: One of Koločep's most enchanting attractions is the Blue Cave. The interplay of light and water gives the cave an ethereal blue glow, making it a mesmerizing spot for swimming and snorkeling.
Koločep's Scenic Trails: The island's network of trails winds through pine forests and olive groves, offering a peaceful hiking experience. Along the way, you can also find remnants of ancient chapels and fortifications.
Activities to Engage in July on Koločep
Kayaking: Koločep's calm waters and hidden coves make it ideal for kayaking. Paddle along the coastline and discover secluded spots for swimming and picnicking.
Hiking: The mild summer mornings in July are perfect for hiking. Koločep's trails are not strenuous and are suitable for all ages.
Discover the Green Paradise of Mljet
Mljet, often referred to as the "Green Island," is one of Croatia's most enchanting islands. Covered in dense forests and dotted with vineyards, small villages, and saltwater lakes, Mljet is a haven for nature lovers and those seeking a tranquil retreat.
How to Reach Mljet from Dubrovnik
Again, there are public transport options that will get you to Mljet, though a Private Speed Boat Transfer from Dubrovnik is unquestionably the most convenient (and stylish!) option.
Standout Attractions on Mljet
Mljet National Park: The western part of the island is a protected national park, featuring two saltwater lakes, Veliko Jezero and Malo Jezero. The park is perfect for cycling, swimming, and picnicking.
Odysseus Cave: According to legend, this cave is where Odysseus was held captive by the nymph Calypso. Today, it is a popular spot for swimming and cliff diving.
Activities to Engage in July on Mljet
Cycling in the National Park: Rent a bike and explore Mljet National Park on two wheels. The trails through the pine forests and around the lakes are well-maintained.
Snorkeling: The crystal-clear waters around Mljet are rich in marine life. Bring your snorkeling gear and explore the underwater world.
Recommended Luxury Boat Tour Experience to Mljet by Rewind Dubrovnik
Discover the allure of Mljet with Rewind Dubrovnik's Legendary Mljet Boat Tour. Our luxury boat tours ensure a comfortable and scenic journey to the island. Once there, explore the lush Mljet National Park, dive into the waters of Odysseus Cave, and immerse yourself in the natural wonders of the island with the guidance of our experienced crew.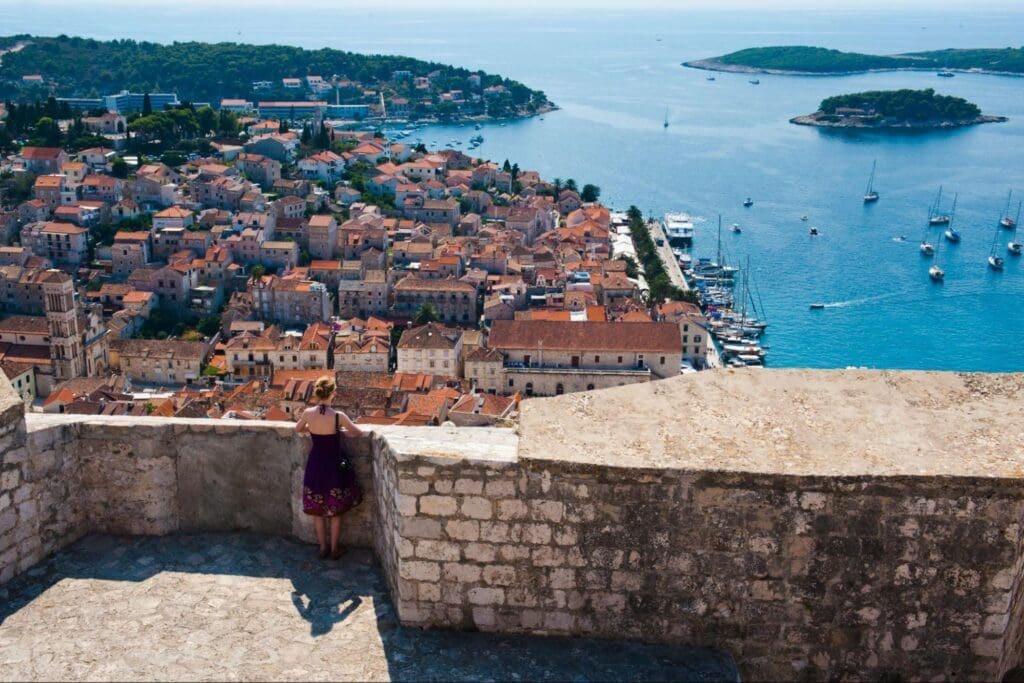 Hvar – The Island of Lavender and Nightlife
Hvar, one of Croatia's most famous islands, is known for its vibrant nightlife, rich history, and fields of lavender. With its blend of luxury and tradition, Hvar attracts party-goers and culture enthusiasts.
How to Reach Hvar from Dubrovnik
The Hvar ferry crossing from Dubrovnik takes between 3 hours and 15 minutes and 3 hours and forty-five minutes, and the service runs fairly regularly. However, with Rewind Dubrovnik, you can take a Private Speed Boat Transfer from Dubrovnik to Hvar, guaranteeing you added luxury, comfort, and convenience.
Eye-Catching Attractions in Hvar
Hvar Town: Hvar Town is the island's hub, featuring a lively harbor, historic architecture, and upscale restaurants. The Fortica Fortress offers panoramic views of the town and the sea.
Lavender Fields: In the inland area of the island, you'll find sprawling lavender fields. Visiting them is a feast for the senses, especially during the harvest season in early summer.
Activities to Engage in July on Hvar
Nightlife and Beach Clubs: Hvar is famous for its lively nightlife. In July, the island's beach clubs and bars are in full swing. Dance the night away at the world-renowned Carpe Diem Beach Club.
Lavender Harvesting: Participate in lavender harvesting activities and learn about the process of making lavender oil. This is a unique experience and perfect for those looking for something different.
Uncover the Beauty of Croatia with Dubrovnik
In July, the Croatian islands are at their most vibrant, with sun-kissed beaches, lush landscapes, and a plethora of cultural and recreational activities. Whether it's the tranquil beauty of Lopud, the lush forests of Mljet, or the exhilarating nightlife of Hvar, each island offers something unique.
Rewind Dubrovnik's Luxury Boat Tours from Dubrovnik are the epitome of traveling in style. Let us whisk you away to these mesmerizing islands, where you can indulge in luxury, revel in natural beauty, and create memories that will last a lifetime.
Take the plunge and choose the Croatian island that sings to your soul! If you have any questions, please get in touch.