At Rewind Dubrovnik, we specialise in taking guests on Dubrovnik land tours of the city and Private Boat Tours on the azure waters of the Adriatic. We know Dubrovnik better than anyone and pride ourselves on picking just the right destinations for our guests, whether they want to explore astounding areas of natural beauty or learn about local cultural and historical sites. (It's also this passion for unique travel experiences that led to us offering Custom Speed Boat Tours from Dubrovnik.) 
So, we won't deny it, we're a little biased when it comes to picking our favourite Croatian city. But we're pleased to say, Croatia has no shortage of fantastic cities for you to explore. There's much diversity in Croatia. Each city has its own unique flavour. With this in mind, join us at Rewind Dubrovnik as we list some of the best cities in Croatia and share highlights from each one.
If you have any questions at all, please feel free to contact us.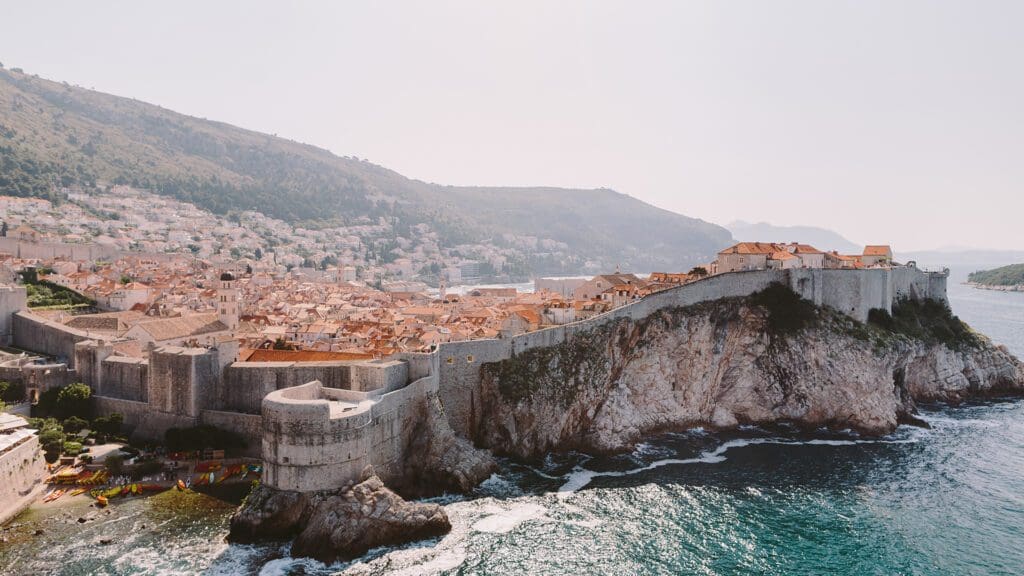 Dubrovnik
Let's begin with the city closest to our hearts at Rewind.
Dubrovnik – sometimes referred to as the pearl of the Adriatic – is unquestionably one of Europe's most picturesque cities. A masterpiece of medieval architecture, the city's Old Town has enchanted travellers for centuries.
The most famous of the city's landmarks is the Dubrovnik City Walls. Built between the 12th and 17th centuries, the historic fortifications stretch almost two kilometres. They give the entire city a remarkable appearance from afar, making this the ideal destination for those who like to take lots of holiday pictures.
Of course, the views from the top of the walls are also extraordinary! Walk the walls of Dubrovnik, and you'll quickly understand why the makers of HBO's Game of Thrones filmed so much of their hit series here. Learn all about visiting the walls on our blog, Walking Dubrovnik's Walls and consider our Game of Thrones tour of Dubrovnik.
Elsewhere, we recommend soaking up the atmosphere of the city's Old Town. Walk the charming streets and daydream about bygone eras – you'll be transported back in time. And if you feel like spending some of your holiday money, there's an array of shops to browse, from indie boutiques to international designer brands. (We prepared a handy guide on budgeting for your trip: How Much Spending Money Will I Need in Dubrovnik?)
Finally, if you're looking to take a break from the city, then you're in luck: Dubrovnik has a wealth of beaches within walking distance. Read our article, What Are the Best Beaches in Dubrovnik, to discover the right one for you. And if you're looking to enjoy an unforgettable, romantic moment in this splendid city, join us for our very own Dubrovnik Sunset Boat Tour.
Šibenik
Though one of Croatia's less well-known cities, Šibenik (pronounced with a Sh sound at its beginning) is nonetheless a strikingly beautiful destination.
Built on the side of a hill in the centre of Dalmatia, the city overlooks the blue waters where the river Krka flows into the Adriatic Sea. Of the city's many treasures, the Cathedral of St James is surely its most famous.
Built between 1431 and 1536, this masterpiece of Renaissance architecture is recognized as a UNESCO World Heritage site. Visible from various viewpoints across the city, there are few buildings in the world so charmingly situated.
We recommend Croatia's coffee culture in Šibenik's bustling Old Town streets and dining in some of the city's many delicious restaurants. Šibenik has also become a hub of creative events recently, so check listings for forthcoming music and arts festivals before your visit.
Much like Dubrovnik, Šibenik's waterside location means it's easy to hop on board a boat and take a journey to one of Croatia's myriad paradise islands, so you can be guaranteed of both cultural and natural wonders when visiting Šibenik.
Split
Split is Croatia's second-largest city and one of the country's most popular sites with international visitors.
With the historic centre of the city being built in and around the former home of Roman emperor Diocletian, Split is a must-visit city for lovers of history. But it's not all dusty old ruins that await you. Split manages to blend its ancient past with its present state as a vibrant, functional, modern city.
When you first approach the centre of Split, Hollywood movies like Indiana Jones may spring to mind. The mammoth complex of Diocletian's palace dates back to the 4th century AD and as you walk through its ancient courtyards decorated with corinthian pillars and sphinxes, you'll quite understandably find yourself speechless. But the Split has many other highlights.
Learn about modern Croatian art and culture with a visit to the Meštrovič Gallery. Ivan Meštrovič is one of the country's most significant artists and this gallery houses almost 200 pieces of his work. Wandering through the fabulous building (also designed by Meštrovič), you'll understand why Auguste Rodin was an admirer.
Split has to be the Croatian city of choice for all Culture Vultures.
Zagreb
Finally, we move to Croatia's most important contemporary urban centre, the capital city of Zagreb.
More of a slow burner than our previous choices, Zagreb's historic roots rest more firmly in the Austro-Hungarian empire than in Rome. But Zagreb benefits from not being defined by its tourism.
You can get a feel for modern Croatia in the nation's capital. Packed with restaurants, trendy bars, theatres, and museums, Zagreb offers a lot of choices, even if it isn't home to historic showstoppers like Dubrovnik's Walls or Split's Roman centre.
Zagreb is the ideal choice for those travellers who love the refinement of city life and slow travel. In this capital city, you can while away the hours indulging in amazing Croatian food and wine or exploring the city's hip coffee scene.
Those interested in sports can enjoy Croatia's national pastime and catch a Dinamo Zagreb game if travelling during the football season.
This brings to a close our list of Croatia's best cities, but we're always happy to keep the discussion going. If you have any questions or comments, please get in touch.