The Elaphiti Islands (also known as the Elafiti Islands or Elaphites Archipelago) are located just west of Dubrovnik and remain a perennial favourite with our guests. These paradisal islands provide picture-perfect island scenery and a taste of the good life.

Glasses of chilled sparkling wine on pristine sandy white beaches, swimming in the azure waters of the Adriatic, walks in quiet medieval fishing villages, and meals prepared with world-class local produce are some of the experiences awaiting you in the Elaphites.
Join us today as we discuss where to find unparalleled cooking on the Elaphiti.
And if we leave you feeling inspired to begin planning your visit, consider joining us for our Elaphiti Islands Boat Tour, which is available as a 4-hour or 8-hour guided tour experience. When you explore Dubrovnik and its surrounding islands with Rewind Dubrovnik, you can be guaranteed the freedom to craft your ideal trip in the company of expert local guides.
Eating on Lopud Island
Eating tasty food in top restaurants undoubtedly ranks among the highlights of any successful getaway. Is there any joy more simple yet rewarding than sharing a stellar meal with friends or family? With this in mind, it should be no surprise that our guests often ask us for recommendations on where to eat in the Elaphites.
Of the 13 islands comprising the archipelago, Lopud is consistently among the first we recommend to guests. Lopud is a small, car-free island with many restaurants, cafes, bars, and pizzerias. It's also an island steeped in medieval history, featuring picturesque churches and monasteries dating from the 15th century.

Many of them offer good service, as well as homemade fresh food. However, from our personal excellent experience, our particular recommendation goes to Restaurant Dubrovnik. Nestled in Lopud port, on the boardwalk overlooking the sea, Restaurant Dubrovnik's cuisine is inspired by the Mediterranean lifestyle. It has been their speciality for over 20 years of family tradition.
You can be sure the food is fresh, as the menu is built exclusively upon daily caught fish, crabs and shellfish – it's plucked from the sea and on your plate within a matter of hours! And if you're lucky enough (read: make your reservation in advance!), you might just get a table on the seafront terrace and enjoy having your meal to a soundtrack of waves lapping gently at the shore.
This is an island of immense natural beauty, historic charm, and a very appealing relaxed pace of life.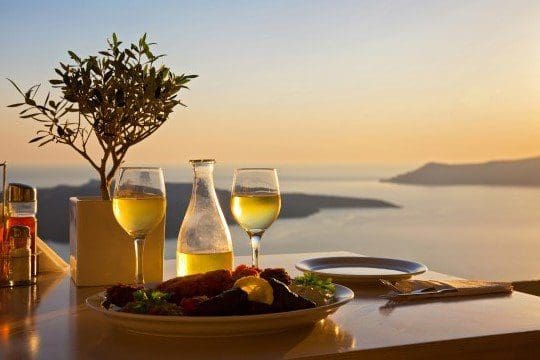 Food on Šipan Island
Šipan is the largest of the three Elaphite Islands, and as such, it abounds with places to eat in each place you visit.
Possessing the highest density of olive trees, relative to its population, of anywhere in the world, the locally crafted Šipan olive oil is worth the trip alone!
Konoba Kod Marka in Luka Šipanska is a must-visit! They serve freshly caught and prepared shrimps and prawns, fantastic seafood risotto, grilled fresh fish, a delicious tuna carpaccio salad, and fish panada, all with locally grown vegetables. But of all their dishes, their speciality is their octopus burgers – a taste sensation you'll want to relive over and over (believe us, we know). Beginning to feel like you can almost taste it all? Getting hungry? This may just be our team's all-time favourite place to eat on the Elaphiti Islands (though that's a very tough decision to make).
Another notable restaurant on Šipan is Bowa (an acronym for the best of what's around). Aside from great food (fresh fish caught daily, hand-picked vegetables, fruit from their garden and homemade olive oil), they offer a lounge area, cabanas and free sunbeds on the beach right in front of the restaurant – the perfect setting for enjoying a meal on a hot summer day. When dining at Bowa, you're so close to the sea that you can swim between meals!

To learn more about Bowa, how to get there, and how to make the visit with Rewind Dubrovnik, please read our recent Visiting the Elaphiti Islands and Bowa Restaurant blog.
And there you have it, our three favourite places to eat on the Elaphite Islands.
Should you decide to book our Elaphiti Islands Boat Tour, we will ensure that eating well is a part of your fabulous day spent exploring these unmissable islands.
And if you'd like even more tasty things to do during your visit to Dubrovnik. consider our food tour of Dubrovnik and our Dubrovnik craft beer tasting. If you have any questions about any of our tours or services, please get in touch.