Are you brushing up on Croatian phrases before your trip to our country? Any holiday abroad comes with the nagging feeling that you might run into situations with a language barrier. However, the chances of this happening on your holiday here in Croatia are minimal.
At Rewind Dubrovnik, we go out of our way to help make visitors feel welcome and at home. Everyone on our team wants you to have a fun, positive, and unforgettable time touring the twinkling azure waters of the Adriatic Sea.
One way we do this is by communicating in excellent English. When combined with our friendliness and personal service, our land tours of Dubrovnik and private boat tours in Dubrovnik have become the natural choice for tourists from all over the world.
If you have any questions about specific tours we offer, please feel free to get in touch.
For now, though, let's take a closer look at how widely spoken English is in Croatia.
Is English a Common Language in Croatia?
In short, yes! Croatia is no different to many other countries around the world when it comes to English. For years now, we have consumed English-language films and songs.
Children here start learning a second language in school from around the age of seven. English is by far one of the most commonly taught at this point, along with German and Italian.
Being bilingual, or even multilingual, is common among Croatians. For example, a recent poll showed that 80% of Croatians are multilingual. Within that group, 81% speak English.
What's more, as many as 95% of people aged 15 to 34 speak at least one foreign language. English is the most common of any secondary tongue in this age group.
Croatia has a booming tourism industry, so it's no surprise that English speakers are concentrated in the capital city, Zagreb, and along the stunning Dalmatian coast. Our own famous city of Dubrovnik punctuates the southern end of this spectacular coastline.
Naturally, the further away from the tourist locations you travel, the less common it is to find proficient English speakers.
Are you planning to travel outside of Dubrovnik? Find inspiration for your adventure with our recommendations for cities to visit in Croatia.
Tips for English Speakers Visiting Dubrovnik and Croatia
While communication in English will almost certainly be a breeze during your holiday in Croatia, locals will always appreciate the use of their mother tongue.
If you're feeling adventurous, why not learn these basic phrases in Croatian?
Hello — Bok (pronounced Bohk)
Goodbye — Doviđenja (pronounced doh-vee-jen-yah)
Good morning — Dobro jutro (pronounced doh-broh you-troh)
Good night — Laku noć (pronounced la-koo nawch)
Thank you/Thanks — Hvala (pronounced hva-lah)
Please — Molim (pronounced maw-leem)
Yes — Da (pronounced as it looks… da!)
No — Ne (also pronounced as it looks… ne!)
From exploring the enchanted Lokrum Island to walking Dubrovnik's city walls, whatever you decide to do in our beautiful, historic city, using these phrases as you go can help bring you closer to the people you meet.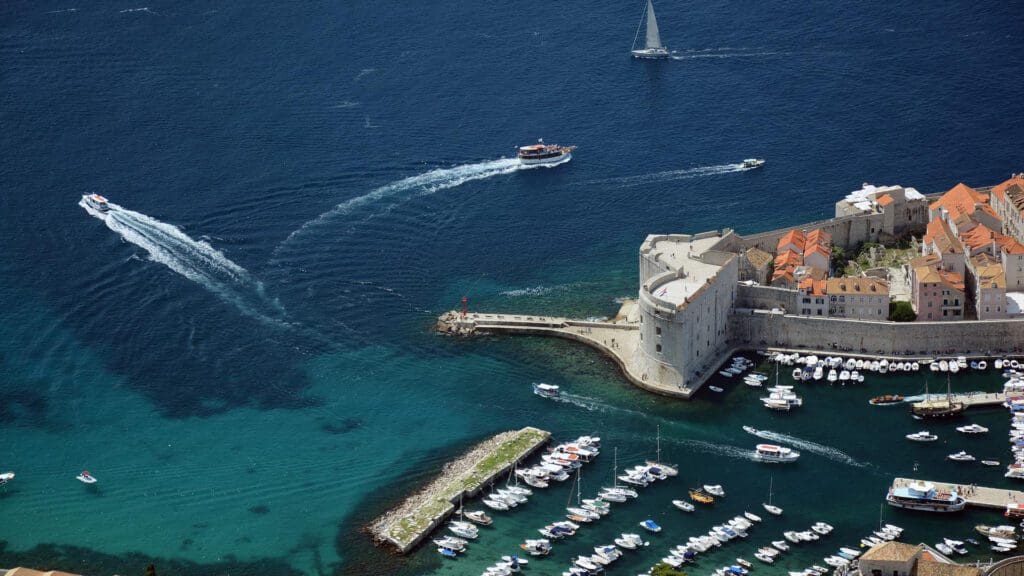 Experience Our Friendly, Personal, English-Language Boat Tours in Dubrovnik
We hope this blog has eased any concerns you may have had about being able to communicate in English here in Croatia. Now you can focus on planning the kind of fun, exciting trip you have always dreamed of!
In addition to our carefully curated private boat tours in Dubrovnik, we also offer the ultimate in convenience and flexibility: custom boat tours from Dubrovnik to any of the nearby islands.
The calm turquoise waters of the Adriatic Sea are calling! Let us take you there.
At Rewind Dubrovnik, we are a team of young, local, and highly skilled seamen who want to help you create memories that last a lifetime. If you have any questions for us, please don't hesitate to get in touch.