Croatia is a European destination that offers a spectacular diversity of experiences. From the fairytale cities of Split and Dubrovnik to paradise islands, wine regions, and modern metropolises like Zagreb. In the summertime, you can enjoy some of the best weather in Europe, catching a tan on pristine beaches and swimming in sparkling azure waters; in the winter, you can enjoy festive Christmas markets in the cities and, of course, eat lots of delicious Croatian cuisine.
So, what would we recommend for a 4-day trip to Croatia? Well, with Croatia, you can pick from an array of locations. You could base yourself in a city and then take trips to areas of natural beauty (learn about our favourite cities with our What City Should I Visit in Croatia? blog), or head straight to a secluded island to bask in sunshine and forget the bustle of modern life for a spell.
Although we may be biased, we'd recommend making Dubrovnik your base camp for your trip. This is because not only is the city itself marvellous, but within a short distance of the city, you have endless experiences to choose from. Whether you want a city break, a beach holiday, some island hopping, or all of those things at once, Dubrovnik has it and more.
Continue below for our suggested 4-day itinerary. And while you're here, be sure to check out our selection of private Dubrovnik boat tours and Dubrovnik land tours.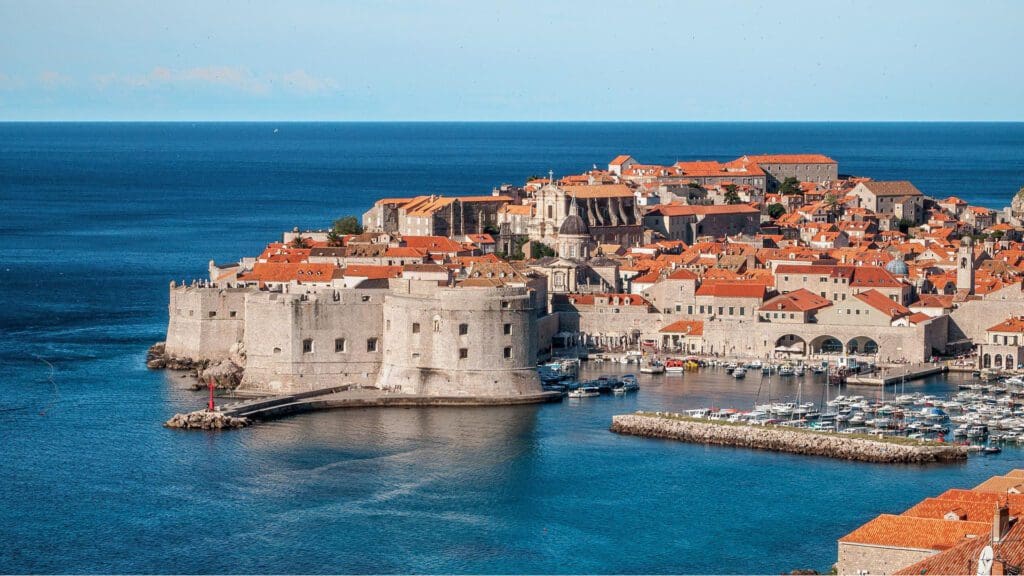 Day One: Walk Dubrovnik's Walls
On your first day in Croatia, explore the Pearl of the Adriatic, Dubrovnik. Dubrovnik is an absolute gem of a city, offering everything from trendy boutiques and a top-class coffee culture to beautiful sandy beaches and medieval buildings that'll look superb on your Instagram feed.
The cultural highlight of the city is undoubtedly the city's breathtaking walls. These medieval fortifications are remarkably cinematic – hence the numerous TV shows and films that have been made here. In recent years, the city has famously been used as the setting for King's Landing in the hit show Game of Thrones. As you walk the walls and snap countless ace pictures, you'll truly feel you've stepped back in time. Read our Guide to Walking Dubrovnik's Walls for more information.
After walking Dubrovnik's walls, explore the city's Old Town. You'll find everything from local crafts to designer brands along the shopping streets here. And we don't doubt it will be one of the most charming city centres you've ever visited. Among the historical sights to look out for, visit the Franciscan Monastery and Pharmacy, Church of St Ignatius of Loyola, and the Rector's Palace.
Learn more about Dubrovnik's highlights with our blog, The Best Things to Do in Dubrovnik.
Day Two: Explore the Elaphiti Islands
On day two, we recommend you visit the exquisite Elaphiti Islands. The motto of the Elaphiti Islands residents is, "No cars. No rush." And as soon as you step foot on one of these idyllic islands, you'll understand why. There is no traffic, pollution, or honking of honks, and people move through life at a comfortable pace.
The Elaphiti Islands are about as close as you can get to paradise – pristine sandy beaches and glowing sapphire waters, charming historic villages and restaurants serving delicious local dishes that are made with the freshest local produce.
If you take Rewind Dubrovnik's Tour of the Elaphiti Islands and Blue Cave, you'll visit three of the archipelago's islands: Koločep, Lopud, and Šipan.
Tour highlights include time exploring the island's historic villages, drinks on board our boat during our scenic travels, and a visit to the enchanting Blue Cave.
We also offer a Half-Day Visit to the Elaphiti Islands, which takes in two islands. Read our Visiting the Elaphiti Islands and BOWA Restaurant blog to learn more about this stunning destination.
Day Three: Visit Mljet Island
Home to the oldest national park in the Adriatic, the beautiful island of Mljet is just 90 minutes from Dubrovnik. You'll soon understand why Mljet is renowned as one of Croatia's most magical islands. Mljet is associated with the adventures of the legendary hero Ulysses, so it's a must-visit site for book lovers.
There's no mass tourism on the island of Mljet, so you don't have to worry about crowds. You'll be left in peace to enjoy the unspoiled natural landscapes and a glass of wine here. Visit the bay at Prožurska Luka for an authentic glimpse of Croatia at its most charming.
In villages such as Sobra and Okuklje, you'll be able to eat fresh seafood and soak up the atmosphere of local life on this island paradise.
Suppose you choose to visit Mljet with Rewind Dubrovnik. In that case, you get plenty of time to explore, admiring the island's rich natural beauty and historical gems, such as the monastery of St Mary. They'll also be time reserved for swimming in the clear waters surrounding the island and exploring picturesque caves. Check out our Legendary Mljet Boat Tour.
Day Four: Hit the Beach in Dubrovnik

On your final day, we suggest you stay in the city. But that doesn't mean you can't enjoy swimming, the great outdoors, and time on the beach. Within the area surrounding Dubrovnik, you'll find many excellent beaches. Whether you want a pebble beach for Instagrammable pictures, or a white sandy beach suitable for sunbathing, you'll find it near Dubrovnik.
Banje Beach is close to the city's Old Town and offers a free, rocky section or a sandy strand where you can rent sun loungers for a small cost.

To discover the other options within the Dubrovnik area, read our What are the Best Beaches in Dubrovnik? blog.
Please contact us if you have any questions about our tours or services.