Vacation is all about having a nice time
Dubrovnik is a small city that exudes a special charm on summer evenings. Let's say you have just escorted the sun to rest on our private Sunset tour, and you want to hold on to that romantic feeling a little bit longer. There are many things you can do to fully enjoy your time in the Old Town, so here are a few first-hand tested suggestions what to do in Dubrovnik at night.
Dinner at Restaurant Panorama
Now that you have seen the City walls from the sea, it is a perfect time to see them from a different perspective – from above. Head towards the cable car station and let is take you to Srđ hill. We do not exaggerate when we say this will surely be a scene etched in your memory forever. Treat yourself with tasty morsel while enjoying the aerial view of the illuminated Old Town and Lokrum Island. But make sure you book a table in advance because waiting lines can be pretty big.
Hard jazz cafe Troubadour
We think you will agree with us when we say that jazz is the perfect music for relaxing on a hot summer night. Even if you are not a big jazz fan, we bet you will like hard jazz cafe Troubadour. You will find it tucked away in a corner right next to the Cathedral. Just follow the music, which is performed live every night. And if you feel like dancing, go ahead, you will get no funny looks.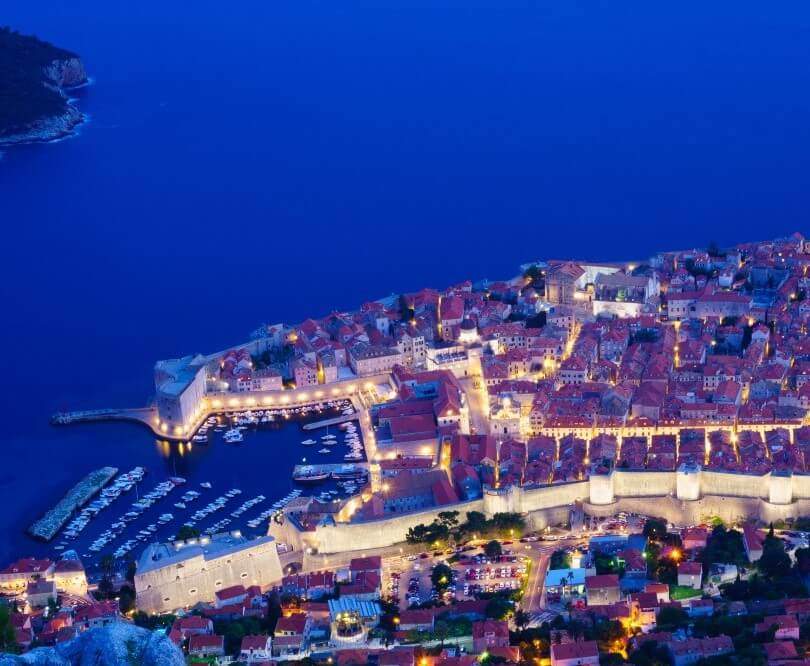 Wine bar D'Vino
Located in Palmotićeva street, D'Vino offers an impressive selection of superb domestic and imported wine, as well as cozy atmosphere. You can order wine by glass or buy the whole bottle. And you fall in love with a certain wine, you can buy a bottle and take it home as a souvenir.
Ice cream shop Dubrovnik
We all know summer and ice cream go hand in hand. We wholeheartedly suggest you visit ice cream shop Dubrovnik near the big Onofrio's fountain and grab a huge succulent scoop (or two). You will probably notice the waiting line in front, however, do not let that deter you, this ice cream is worth the waiting. Once you have it in your hand, do as the locals do. Take a slow walk up and down the Stradun, observing the beautiful people and scenes all around.
Porporela
Perhaps the most romantic "free of charge" place in the Old Town. The sound of the waves, light breeze, couples in love cuddled on the bench, dimmed lights, view of illuminated yachts anchored in front of Lokrum,… What more could you ask? If you were thinking of romantic music, you might get lucky if you visit Porporela on one of those nights when a local musician has a live solo guitar performance.
We hope you will find our suggestions what to do in Dubrovnik at night helpful and have a wonderful time. For even more Dubrovnik inspiration, check out our entire range of Dubrovnik land tours, including our ever-popular Dubrovnik Jewish tour.