If you are staying on Hvar and have a taste for more Adriatic adventures, there are plenty of great places to explore from the island.
You may want to step out of the tourist buzz for a while, browse some local markets, find a secluded, sandy beach or explore the rich history of nearby cities. Maybe you are looking for some exciting stop-offs on your way to or from the airport? 
Below, we have put together our favourite places to visit around Hvar, with tips on travel and some local secrets thrown in for free. Looking for more ideas for your next Croatian trip? Check out our boat tours from Dubrovnik and our Dubrovnik land tours. And please get in touch with us at ReWind Dubrovnik for a chat about your ideal Croatia holiday.
1) Visit other local islands: Pakleni, Korčula, Vis, and Brač 
Each Croatian island has a unique charm and history. Although Hvar is beautiful, there are more delights (and sandier beaches) in store if you jump on a boat from Hvar Town.
The most popular nearby islands are the Pakleni Islands. You can get there in a few minutes by water taxi, or you can rent a kayak and enjoy the slower journey (around 30 minutes to an hour depending on your speed).
The Pakleni Islands are characterised by their peaceful coves, pine forests, and limestone coastlines. They provide popular wedding destinations with stunning photography options and quiet boutique hotels.
If you are interested in naturist beaches, Pakleni's Jerolim Island was named the world's top naturist beach by CNN in 2011, and it is known to be family friendly, with nudism totally optional. Other islands also offer naturist options: look out for the FKK sign (standing for Frei-körper-kultur, or free body culture).
With its striking shape jutting out into the sea, Brač Island's Golden Cape, or Zlatni Rat Beach has been named one of the world's most photogenic beaches. Brač is also home to a number of picturesque towns and the Blaca Hermitage.
Established in 1551 by two monks, the hermitage not only offers an incredible insight into monastic history but also is classed by UNESCO's World Heritage Convention as forming a unique ecosystem with the surrounding geology.
Vis Island is the farthest inhabited island off the Croatian mainland and has a rich naval and military history. Now, it is famous for incredible wines and locally caught seafood. Nearby is a stunning natural wonder: the famous Blue Cave on the island of Biševo. The blue colour is caused by sunlight entering from underwater and reflecting off the limestone.
Due to the sensitivity to the impact of tourism, Biševo's blue cave can only be accessed by small boats for a short period of time. If you really enjoy its ethereal magnificence, check out our trip to the much less well-known blue cave hidden on the Elaphiti islands.
Our absolute favourite local island, however, is Korčula. Our specialist Korčula blog explains why: its magical remote sites, rich cultural, and piratical heritage and sandy beaches totally won us over, and we named it one of our best Croatian islands. 
2) Visit Split
Split is Croatia's second largest city and a major tourist destination. It is just a one-hour ferry ride from Hvar.
Apart from the charm of Split's old town, it also has an incredible literary tradition tracing back to mediaeval times. You can explore this tradition in the Split City Museum, which is also home to the Emanuel Vidović Gallery.
Emanuel Vidović's work combines post-impressionist styles and literary allusions to South Slavic history and legends. After spending time on Hvar, you will recognise the area's beauty in Vidović's lyrical, atmospheric landscapes.
Lovers of contemporary culture will enjoy the Ivan Meštrović Gallery and also Split's thriving popular music scene. Check if your visit coincides with the Split Music Festival. For live music, head to Judino Drvo in the old town, Tropic Club near Bacvice Beach, or to the open-air concerts in the main square of Peristil.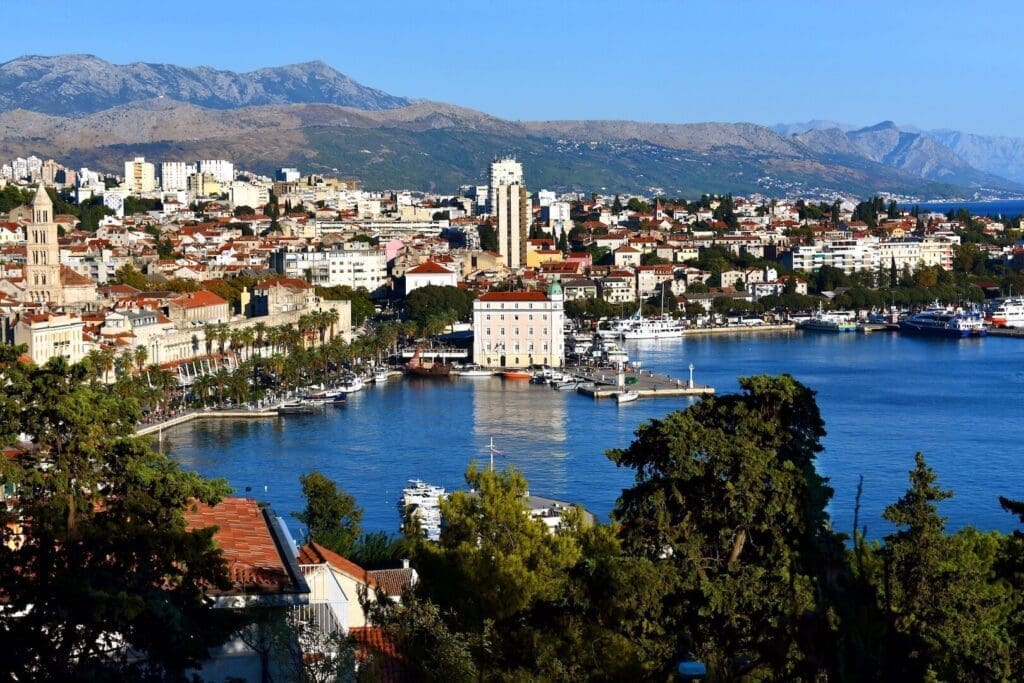 3) Visit Trogir
After getting the ferry to Split, you can easily get a bus to the coastal town of Trogir. Its centre is known to be an 'open air museum' and is yet another of Croatia's many UNESCO World Heritage sites, with the intricate carvings of the Cathedral of St Lawrence, and the renaissance architecture of Čipiko Palace.
What we love doing most of all in Trogir, however, is taking a walk around the city walls. Enjoy panoramic views of the towns and local area, and pack some traditional snacks, such as the arancini candied orange peels, the citrusy fritule doughnuts or a nourishing burek savoury pastry.
4) Visit Dubrovnik
Although we are biassed, Dubrovnik is really a must-see city when visiting Croatia, and can be accessed from Hvar in style via our Hvar-Dubrovnik speed boat. Dubrovnik has a fascinating heritage, best explored through the stories and insights of local guides.
For example, our Dubrovnik Jewish Legacy tour takes you through 2000 years of Jewish history, via the Ottoman empire, the Spanish and Portuguese Inquisitions and delightful local community anecdotes.
Alternatively, our Dubrovnik Game of Thrones tour reveals not only key filming locations but also some of the true local history reflected in the fiction. The tour includes the Lovrijenac Fortress, panoramic views of the Adriatic Sea and walking in the steps of historical and fictional heroes through the twisting streets of the old city.
For adrenaline lovers, check out the longest coastal zipline above the Adriatic! Our blog post on why Dubrovnik is so famous is a good place to start for further tips and ideas for visiting the city. 
Hvar is an incredible place to stay, and we think it will fill you with a sense of adventure and an appreciation of truly excellent beaches. With these newfound senses, there is so much to explore locally it can be tricky to figure out where to start. 
So please do get in touch with us at ReWind Dubrovnik for help with planning. We specialise in a customised approach and will enjoy finding you the best destinations and activities for your unique interests and priorities.