Avoid road traffic jams, choose a boat ride from Dubrovnik to Cavtat
Once in Dubrovnik, you will probably want to visit fascinating nearby destinations besides, in addition to exploring everything the city offers. Seeing Cavtat is an excellent idea for a day trip from Dubrovnik. Our suggestion is to make the trip by boat, of course. Why spend time in the road traffic jam when you can get there quickly with a boat ride? Enjoy the sea breeze, cold drinks, and mesmerising views.
Located around 20 km south of Dubrovnik and 22 km from Montenegro's border, Cavtat boasts clean sea, sandy beaches, beautiful bays, and rich cultural heritage. This ancient town with a thousand-year history used to be called Epidaurus. Legend has it Epidaurus was a predecessor of Dubrovnik. After the total destruction of the settlement in the 7th century, people moved and eventually founded Dubrovnik.
Today in Cavtat, you will find many well-preserved reminders of the glorious past: the Franciscan monastery, the Church of Our Lady of Cavtat, St. Nicholas' church, fortifications, city walls, squares, palaces, and much more.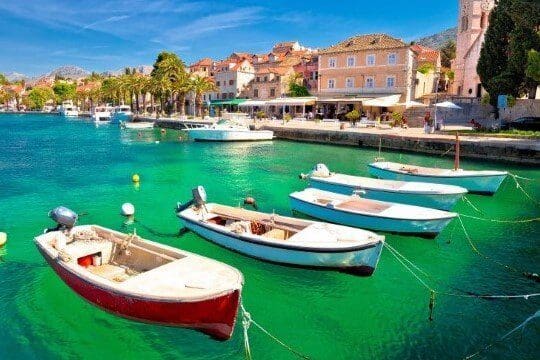 Supetar & Pasjača beach – beauties worth exploring
Choosing our boat tour to Cavtat for your day trip from Dubrovnik has more advantages. You may also visit Supetar, a small island across Cavtat, a special ornithological reserve. Also, a protected sight of an ancient shipwreck with 1500 amphoras lies beneath the sea surface in Supetar surroundings. Of course, there is a bar and a restaurant for a drink or a snack break.
Return boat from Cavtat to Dubrovnik…
Located 10 minutes from Cavtat, Pasjača beach was declared the best beach in Europe in 2019 according to the prestigious website European Best Destinations. However, its main features are not exclusive restaurants and bars with loud music and other beach services, but only the pristine nature and quiet. Perfect, isn't it? Cavtat, Supetar, Pasjača, and other nearby places await you this summer. 
Ready to plan your trip from Dubrovnik to Cavtat and back? Let us take you there!