So, you were researching for your dream trip to Dubrovnik and discovered our Private Dubrovnik Boat Tours? Fantastic! We're pleased to have you on board. At Rewind Dubrovnik, we've helped thousands of travellers make their perfect vacation in Croatia a reality.
Whether you're travelling solo or with family, friends, coworkers, or pets, we can't wait to show you the best that the beautiful city of Dubrovnik offers. As a company that champions diversity, meeting guests from around the world, drawn from different ethnicities and identity groups, is a big part of what inspires us!
But are we the ideal tour operator for you? Planning a holiday in one of Europe's most beautiful destinations is no trifling matter – you want to get it just right. With this in mind, we decided to put together a short guide to help you decide if you and Rewind Dubrovnik will be an excellent fit.
So, pour yourself a coffee and learn all about the types of travellers who should maybe avoid booking our tours (and those who should book right away!).
We might not be suitable for you if…
1. You can't swim
Sorry, nonswimmers! We love you, really, we do, but when you travel with Rewind, you're going to be on the water almost…all the time. Crafting unmissable luxury boat tours on the sparkling waters of the Adriatic is our speciality. Without the ability to swim, you're destined to miss out on much of the fun.
Now, we do, of course, provide life jackets for your comfort and safety, so those with basic swimming abilities will manage fine. But if you dread the sea, do you really want to find yourself stuck on the boat while others carelessly jump into the sea, swim, and snorkel?

On our Dubrovnik Boat Tours, we'll be sailing around beautiful Adriatic islands and islets, visiting amazing coves, bays, and beaches. If you're not good on the water, then your holiday time may be better spent in the UNESCO World Heritage Site that is the Old Town of Dubrovnik. Don't worry. Spending lots of time in Dubrovnik is pretty amazing in itself! Read our Why is Dubrovnik Famous? blog to learn about what makes Dubrovnik so special.
2. You're in search of something…rowdier
Croatia is a country famous for its wine, and people here enjoy a drink (ourselves included!), but our boat tours are not designed for those who simply want to get drunk in a novel location.

We put a lot of hard work into making our tours extra special and provide chilled drinks, including alcoholic drinks, such as beer, wine, and prosecco. We want you to be able to relax in your luxurious surroundings, making yourself at home on our boats which are designed for maximum comfort (learn more on our dedicated Our Boats page).

However, we trust you to be a responsible drinker and not practice dangerous behaviour which would jeopardise the safety of you, other guests, or our crew. We also do not want one guest's drunkenness spoiling the trip for others on board.

Believe us: no one wants to end up with alcohol poisoning on open seas!

Look at our Majestic Dubrovnik Sunset Boat Tour to get a feel for the atmosphere we like to create on our tours.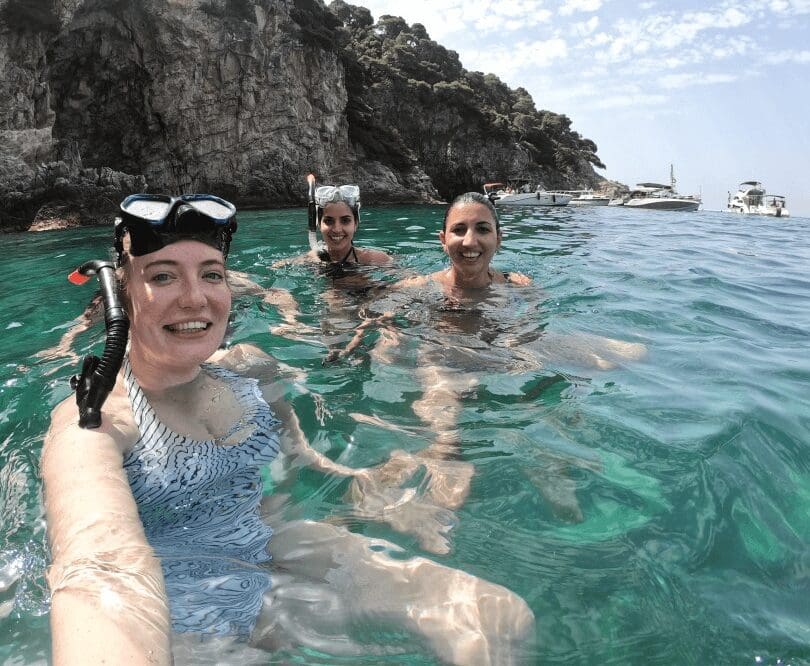 3. You're an adrenaline junkie
Yes, we do speed boat tours, but that doesn't mean we practice speeding beyond legal restrictions, jeopardising your, our, and other people's safety.
Croatia is an excellent destination for those who love watersports and plenty of surfers, wake boarders, kite surfers, and cliff divers come here each year to get their thrills.
Our tours, though, are designed with relaxation in mind… We know all about the stresses and strains that our guests have to contend with in their day to day lives, and we want to offer them a well-deserved break.

Dubrovnik boat tours are performed with Marlin 23 rib with a max speed of 40 Knots. It can do sharp turns and withstand a tremendous amount of dynamic load and rough seas. But your skipper won't be rushing your boat cruise.
We want our clients to have a truly luxurious and chilled time, to enjoy their time with us fully. So, if you're into a bit more adrenaline ride, perhaps renting a jet ski would be a better choice.
Have a look at our Panorama Cruise of Dubrovnik for an idea of the pace at which we'll explore the beautiful coastlines around Dubrovnik.
4. You're a natural pessimist
Look, we don't want to knock anyone's way of doing things, but in the interests of crafting unforgettable experiences for those on board, please come aboard with an attitude that harmonises with your surroundings. You're in one of the most stunning coastal areas in Europe – embrace it!
Dubrovnik and its surroundings are truly enchanting, and we want our guests to go home with only positive emotions.
Our boats are kitted out with all the equipment and supplies (including chilled wine!) to create a comfortable environment for all.
Forget about your responsibilities at the office. You're on vacation, after all.

For a taste of the peace and natural beauty that awaits you on our tours, read about our Private Tour to Ston Island.
5. You're on a tight budget
Before we begin, we mean no disrespect to budget travellers. In fact, we previously wrote a How Much Spending Money Do I Need for Dubrovnik? blog with budget travellers in mind.
However, the nature of our luxury cruises means that our prices are not affordable to everyone. We try to keep our prices as reasonable as possible, but our focus on sustainability means we cannot offer the backpacker-friendly bargains found elsewhere.
We maintain our boats to ensure they are in pristine condition and provide our guests with top-quality services and products like organic Croatian-made suncream and the finest bottles of wine and champagne. We've crafted our tours so that our customers get to experience the good life when in Dubrovnik – this is travel at its leisurely best.
We don't discriminate against travellers according to their budget, we simply think everyone can find a tour fitting theirs.
We think Rewind is perfect for you if…
You've arrived in Croatia with a hunger for high living and adventure on the glowing azure waters of the Adriatic Sea! From Full-day Tours of the Elaphiti Islands and Blue Cave to our Romantic Dubrovnik Sunset Boat Tour, at Rewind Dubrovnik we want to treat you to a truly memorable time in Croatia.
When you explore the South Dalmatian coast with us, you can be assured of spellbinding natural scenery, luxurious on board experiences, local insights and recommendations from our expert skippers, and plenty of opportunities to sample world-class Croatian food and drink.
For even more foodie options, consider our Dubrovnik food tour and our Dubrovnik beer tour. If you have any questions about our tours or services, please get in touch.