Go beyond the usual tourist paths
If you are passionate about discovering new destinations and truly getting to know them, then the best thing to do is to hire an experienced local guide who will show you even the best-hidden corners of his or hers hometown. One of those guides in Dubrovnik is surely Ivan Vuković – Vuka; traveler by soul, tour guide by passion and photographer by love. So, if you would like to have the best insight into Dubrovnik's history, what's like living here and go beyond the usual tourist paths, we suggest to continue reading and book one of his walking Dubrovnik tours.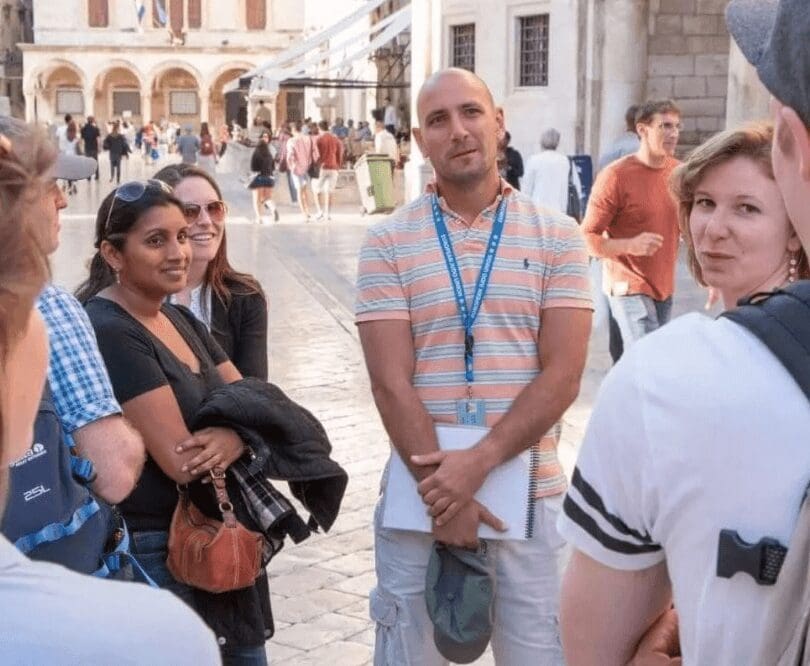 Let Vuka take you to his Dubrovnik City Tour on which you will discover all the highlights of Dubrovnik's Old City and see the backstreets and hidden places where the history of this wonderful city was forged.
Going through a maze of narrow streets and small squares of the Old City, beyond the usual tourist paths, the Legends & Curiosities Tour will acquaint you with the great sights built during the Republic of Dubrovnik, as well as its prominent citizens.
You have probably heard that Croatia went through a devastating homeland war during the 1990s when Dubrovnik had been extremely damaged. But how much of that part of its history do you really know? Hear the whole story from Vuka's first-hand experience on War Story Tour.
Did you know that the Jewish community in Dubrovnik had its own ghetto in Žudioska street back in the times of the Republic of Dubrovnik? On Vuka's Dubrovnik Jewish Tour he will tell you about every aspect of Jewish life in Dubrovnik until today.
Real treats for movies and series fans
If you prefer "modern" stories and tours, then we suggest booking the Wannabe Croatian Tour. You will get to see, hear and experience the life of the locals living within the Walls surrounding the City. Artistic souls, beginners, amateurs, enthusiasts as well as semi-pro photographers might want to go on a perfect photo hunt with Vuka on his Dubrovnik photo tour.
And the last, but certainly not the least, Vuka's specialty! Walking Dubrovnik tours related to popular series and movies filmed in his hometown. Of course, the most famous one is the Game of Thrones Tour. He will take you to the exploration of the King's Landing and show you all key GoT shooting locations. However, if you'd like to know about King's Landing as well as the real history of the Republic of Dubrovnik then probably the Game of Thrones and City Tour would be the best fit for you.
His Movie tour is a real treat for movies and series fans. It includes a visit to shooting locations of famous series and movies filmed in Dubrovnik: Game Of Thrones, Star Wars: The Last Jedi, Bollywood movie Fan, Robin Hood: Origins, and History Channel's Knightfall.
The duration of Vuka's walking Dubrovnik tours is about 2 hours, which means you will have just enough time for exploring without getting tired. And as any experienced and professional guide would, he will respect your pace and your requirements by customizing the tour according to your preferences. His reviews on Google speak for themselves, and we also give him wholeheartedly a big thumbs up!
Rewind offers expert Dubrovnik tour guides and skippers
If you've taken a tour of Dubrovnik's breathtaking historic streets and are ready for something completely different, why not join us at Rewind Dubrovnik for a tour of Dubrovnik's coastal waters? Our private boat trips from Dubrovnik are led by expert local skippers who will help you discover the immense beauty of the Adriatic waters that surround Dubrovnik. And they are always happy to answer any of your questions about the region's culture and history. We also offer newer Dubrovnik land tours that have been packed with local knowledge and passion.
Contact us if you have any questions.